Peak Freshness
Inspired by the powerful essence of its namesake, the EverestAir® brings air purification to new heights. With a modern design that can be placed against a wall and complements any decor, the EverestAir™ makes every space feel like a breath of fresh mountain air.

Air Quality Readings
Choose what you'd like to see on the display, such as PM1.0, PM2.5, or PM10 readings, or your overall clean air percentage, so you can know your indoor atmosphere like an expert.
A new take on air-scanning technology.

An advanced version of our Core series' existing technology, AirSight Plus™ Technology 2.0 uses a three-channel laser dust sensor to scan for airborne particles, enabling Auto Mode to accurately adjust the fan speed and eliminate guesswork.
Fresh Air Starts With Innovation.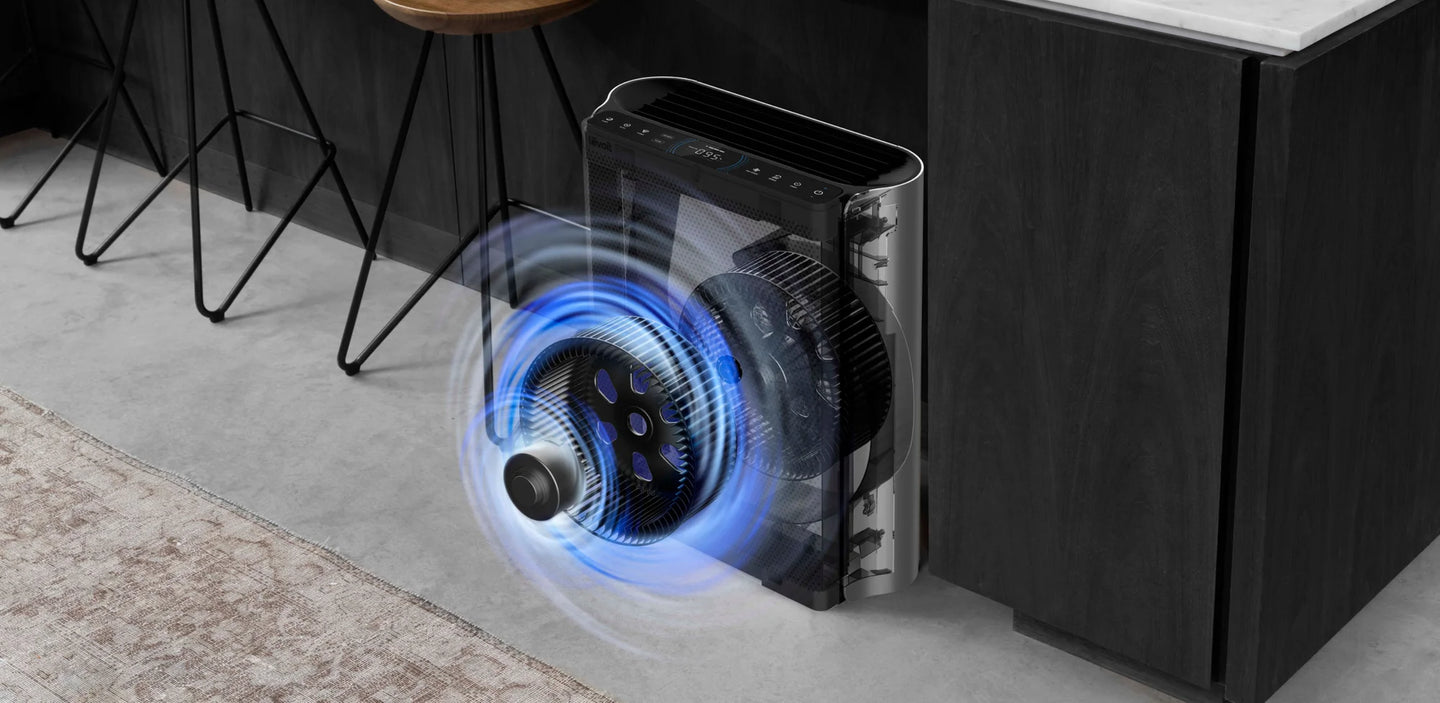 Kitchen

Clear out smoke and cooking smells
160 ft² / 4 minutes

Master Bedroom

Clear out smoke and cooking smells
275 ft² / 6 minutes

Large Living Room

Filter pet dander and allergens from your family's gathering spot
380 ft² / 8 minutes

Open-Concept Floor Plan

Keep your whole space fresh and comfortable
558 ft² / 12 minutes
Thrive with Smart Control
With the free VeSync app, you can control settings, check your home's air quality, adjust the vent angle, and create schedules—even when you're not at home.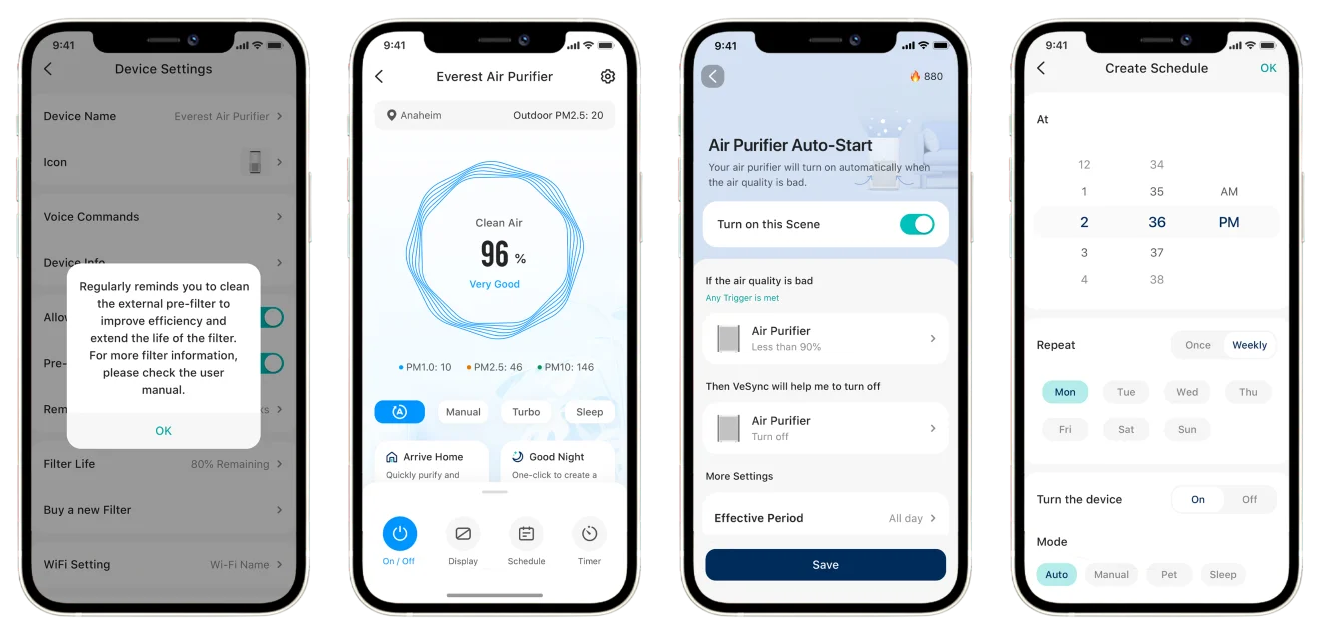 Hands-Free Control
Connect the EverestAir® to Amazon Alexa or Google Assistant™ through the VeSync app, so you can stay in control even when your hands are full or the air purifier's out of reach.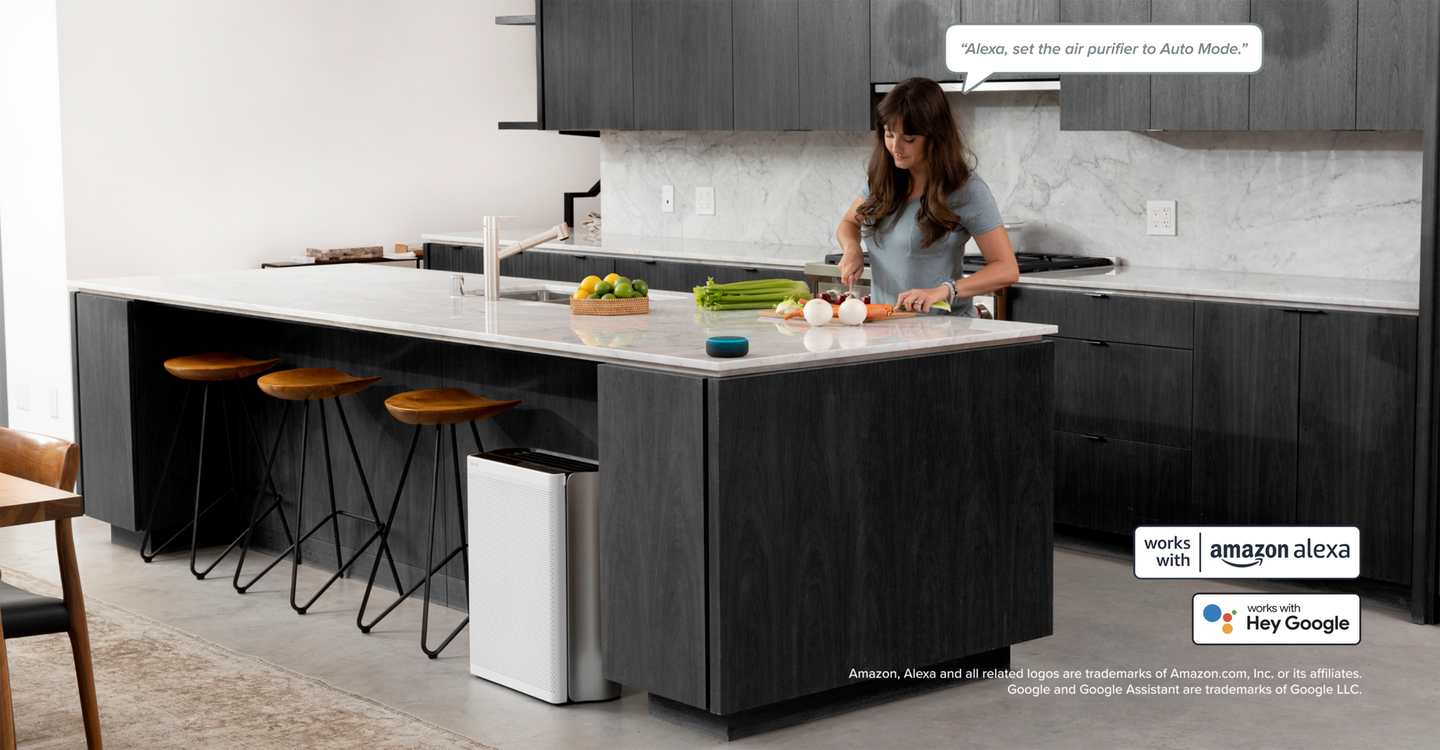 Fall Asleep in Fresh Air
Let the EverestAir® purify your room while Sleep Mode uses a fan speed even quieter than low speed. When the lights go down, the Light Sensor will automatically turn off display lights so you won't be disturbed.


Adjustable Vent Angles
Tuck the EverestAir® beneath a high counter or beside furniture. With adjustable vent angles, you can keep your space open while circulating fresh air.
Choose between 45º, 60º, 75º, and 90º angles.

Roll the EverestAir® beneath a kitchen counter.

Place the EverestAir® beside a wall for more open space.
Certifications
*Source: Stackline data for US Amazon Sales, February 2019 to September 2021.
Other customers also viewed
WARNING: California's Proposition 65